Wireless Keyboard with Case For Ipad Mini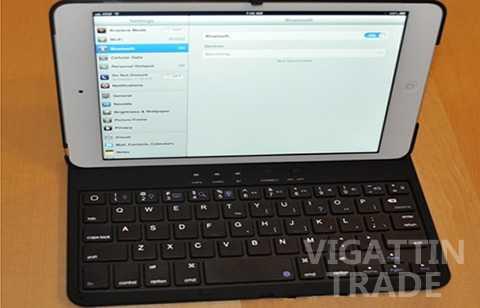 Ad Description
VIG IT now! Click here
Protective Case Design

Built-in Rechargeable Li-ion Battery

Battery Rechargeable Times: 500 Times

The Keys Can Be Hit Up To 5 Million Times

Full Coverage Protection For Your Tablet PC

Built-in bluetooth keyboard case with stand for iPad Mini

Compliant with Bluetooth V3.0

Keyboard ON/OFF switch conserves battery power when not in used

High-quality smooth coating with great finishing

Measures about 200 x 138 x 60 mm

Charged using Micro USB cable (included)

Compatible with iPad Mini

61 keys Bluetooth Keyboard

Bluetooth Specification Version 3.0

Working distance: 10M

Modulation system: GFSK 2.4G

Transmitting power: Class 2

Operating voltage: 3.0-5V

Working current: < 5.0MA

Standby current: < 2.5mA

Sleeping current: < 200uA

Charging current: >= 100MA

Standby time: 60 days

Uninterrupted working time: 55hours

Charging time: 4-4.5 hours

Key strength: 80 +/- 10g

Key life: 500 million
If you rely on your new iPad Mini as your "main-brain" machine and have been looking for a way to create more of a portable computer like experience with it a keyboard case is a good way to do so.

I personally find that I can be much more productive when using my iPad with a real keyboard as apposed to then on screen keyboard built into the iPad.

The Wireless Keyboard Case for iPad Mini allows you to use your iPad in either portrait or landscape modes while typing, a feature not seen on many keyboard cases.

Don't be thinking you'll have to spend a small fortune on this sort of case either.

The Wireless Keyboard Case for iPad Mini is super affordable too.

Inside the packaging you'll find the case along with a set of instructions, and a micro USB cable used for recharging the battery inside the keyboard.

It says that the battery will take about 3 hours to charge.

Once it's fully charge you'll be able to use it for up to 60 hours before having to charge it again.

Technical Details : USB cable included for charging.

Works with all versions of iPad Mini.

Keyboard will connect to any Bluetooth device but it can only be used as a case and stand for the iPad Mini.

Customized with sleep/wake hibernation mode when case is on the tablet.

Rotates 360 degrees for multiple viewing options including vertical and horizontal.

Keys are hard ABS with very good response.

Takes 3 hours to charge.

Battery lasts 60 hours.

The entire case is finished with a soft touch material, which means it's very easy to hold on to.

The mechanism which helps stand up the iPad Mini is metal looking which offers a nice contrast with the black color of the case.

The case is basically a clamshell style case with the keyboard on one side and a snap on the back style case mounted on to the other.

To install your iPad Mini into the case simply click it in to the right side.

Once your Mini is inside the case you'll still have access to all of the ports and controls.

You'll also find that the case does work with the iPad's sleep/awake function so that when you close the lid the iPad goes to sleep and when you open it the iPad wakes up.

To prop up you Mini for typing mode you slide out the case portion and stand it up in the grove cutout into the top of the keyboard.

You can choose to prop up the iPad Mini in either portrait or landscape modes (a feature not found on most keyboard cases.)

As with any Bluetooth device you want to use with your iPad you'll first have to pair the two devices.

This is something which you'll only have to do once.

The keyboard portion of the case does offer a row of iPad specific keys.

You'll be able to do things like press the iPad's home button, raise and lower the volume, or change brightness right from the keyboard.


USER INFO: / (02) 945-2568,(02) 414-3972
Compared Ad