Trunki kids 3in1 luggage bag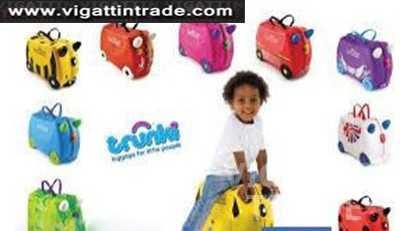 Ad Description

for questions and orders call or txt 09266426798/09471741429
meet ups /shipping
Trunki kids 3 in 1 bag
18 litre storage space for your favourite toys and games
Internal pouch and luggage belts
Dimensions 46 x 21 x 31cm
Hand Luggage Approved
3 Years+
Going on holiday should be fun, but for many parents, the 'going' bit is far from fun - in fact its more like an ordeal you have to get through whilst your little cherubs chew your ears off about being 'booooored' or worse, chuck massive tantrums to make sure you know just how bored they are. If only some clever clogs would invent luggage designed for kids that doubles up as something to keep them amused...

Introducing Terrance - the original blue Trunki; he was created to beat the boredom so often suffered by travelling tots. Designed to be used as handluggage, kids can pack Trunki with all their favourite toys then ride off, whilst parents keep them in tow.

Colourful, fun and super-stable, Trunki features integrated wheels, steering 'horn' grips and a contoured saddle allowing kids to safely ride their luggagethrough the terminal. As well as its supreme ride-ability, this award-winning case features secure catches, soft rubber rims to prevent little fingers getting caught when reaching for books, games and clothes, and a secret compartment for sweets and treats. And despite its generous 18L capacity, it weighs in at a mere 1.7kg and is hand luggage approved, meaning kids can enjoy the thrill of carrying/riding their very own case from check-in to boarding.

Don't forget to tell all your friends and followers via Facebook and Twitter about this co-buy so we can get to the best possible price! And remember: if you bring more people into the co-buy than anyone else and it sells out, you could receive yours for free.
Compared Ad