Tiger Bunny King of Works Art Book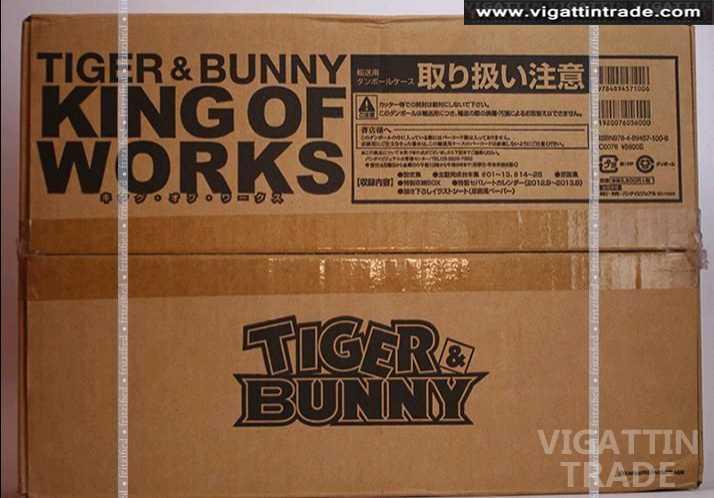 Ad Description
Product Details (from Hobby Search)
Tiger

& Bunny King of Works (Art Book)
Series:

Tiger

& Bunny

Publisher: Bandai

Category: Pictures Collection, Picture/Art Book

Release Date: 2012/06

Specifications: A 4Kg Box containing 4 Books, a calendar, and loose illustrations from the series (a real must have for real

Tiger

& Bunny .fans)
See review of this item

here

(also your reference for the contents of the box).

Status: Rare (sold out locally and at Hobby Search) This item currently fetches somewhere between 4,500 to 14,383 PLUS shipping (fro a 4Kgbox yikes!) from international sellers.
Item Specifications
Opened box upon purchase to inspect contents

Books were never displayed, perused.

Practically mint in condition

Stored in a plastic box protecting it from bugs, smoke, dust, and direct sunlight.

Seller is a toy hobbyist and collector so I know how to care for my collection as would avid fans of these precious collectibles.
Contact Info (for clarifications, inquiries, and fast response within the day)
+639087568629
email: fritz dot tentativa at gmail do t com
Recommendation
Please search for item reviews on the net for pros and cons of the Tiger Bunny King of Works Art Book collectible box item.
With this ad are actual photographs of the item I am selling, taken on Dec 30, 2012. There was no post processing involved to enhance the look of the image (other than cropping and inclusion of my watermark)
Please see review and photos of the box's contents from a post at the This Is Sternbild blog (not mine).
Sale Specifics
No reservations. Sure buyers only. Trades not accepted. Price is fixed. First to contact, first served. Item is available unless marked as sold. Cash only upon meet-up, preferrably in any of the malls in Makati from 1:00PM to 9:00PM or as requested and agreed by both buyer and seller (do text or email and we'll see if we can meet half way around Metro Manila, thanks!).

Compared Ad