Epson EB-1955 4500 ANSI Lumens LCD Projector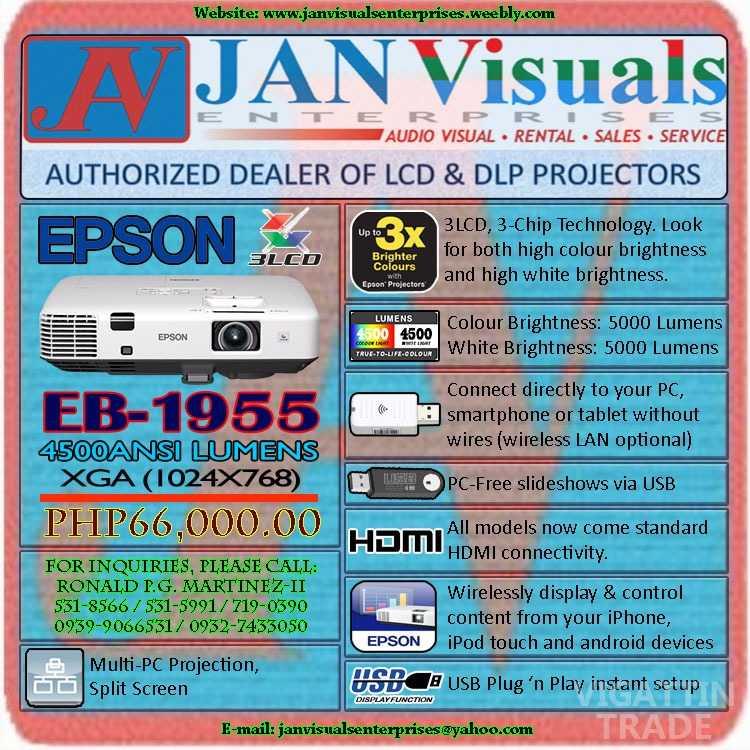 Ad Description
JAN VISUALS ENTERPRISES
2 Aliw Street, Barangay Plainview, Mandaluyong City
Ronald Martinez (Sales)
0939-9066531/0915-5188583/531-8566/531-5991
janvisualsenterprises@yahoo.com
www.janvisualsenterprises.weebly.com
EPSON EB-1950 LCD PROJECTOR
4500ANSI Lumens (4,500 Lumens Colour & White Light output), XGA, 3,000:1 contrast ratio, HDMI, USB Type B: 3-in-1 USB Display both for PC & MAC, friendly functionality including automatic setup with real time Vertical + Horizontal keystone correction, PDF viewer and PC-free presentations via USB memory devices, 2,500 hrs. (high) to 4,000 hrs. (eco mode) lamp life (est.), Quick start-up & Instant "Off" function, wireless optional, Enrich Presentations with a Single Projector (Screen fit & Split screen), Clear images with accurate details (Farouja DCDi - Eliminate Jagged Lines and Enhanced Sharpness), DICOM SIM Mode, Focus help, Network Management for Easy Monitoring (EasyMP Monitor and Message Broadcasting), RS-232C, Environmental-Friendly: 0.44W Standby power consumption, Approx. 271 x 377 x 93 mm (D/W/H), AV mute slide, 3.9 kilograms (8.6 lbs.), 3LCD display technology, 100~240VAC (Auto Switching), 50/60Hz (universal), Made in China.
Warranty (Brought in Service):
Two (2) years limited warranty on parts and services except bulb & lenses.
One (1) year limited warranty on bulb or 1000 hours. Whichever comes first.
Compared Ad