CEO Thinkpad X220 Core i7 Vpro 3.4Ghz Turbo|6gb DDR3| 12.5IPS pan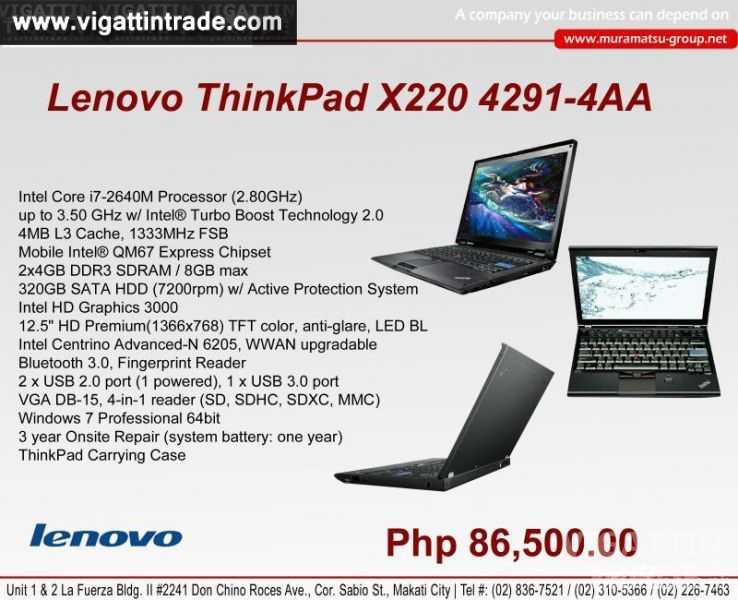 Ad Description
from Abroad. with Lenovo warranty until 2014 98% like new Smooth Unit, unit battery box charger Win7 Pro software installed 09287771444 meet smfairview or LBC nationwide

Compare price and specs i5 lang yung link
with i7

Review


Admit it, when you look at the picture above, all you really see is a laptop with a design that hasn't changed much in the last ten years. It's true, based on its professional aesthetic alone, the ThinkPad X220 can't really be distinguished from the other X Series laptops Lenovo's released pretty much on an annual cycle, but there's much more than meets the eye with that there ultraportable. The 12.5-inch machine is filled to the brim with the latest and greatest technology, including a new Intel Sandy Bridge Core i7Vpro processor, an IPS display, and a six-cell battery. And if you look even closer, Lenovo's made some small tweaks to the touchpad and keyboard, which make more difference than you'd ever think. The point is, that all-too-familiar ThinkPad can deceive you with its boring business looks, but it's arguably one of the best laptops we've ever tested. Hit the break to find out why we think it's so laudable.

We've already established that the X220 has the ThinkPad look and feel that laptop users have grown numb to over the years, and while it may be understated and plain by today's standards, we still think there are parts about it that are pretty timeless. The matte black plastic body gives the system a uniform look, which sure does beat the plethora of mismatched systems out there (see a system like the ASUS U30Jc), and the lid is still blanketed with a rubbery coating. Obviously, the laptop industry's move to metal exteriors makes the X220 look a bit more sissy than rival business lappies (i.e. HP's EliteBooks and Dell Vostro), but as we've said before, it really is still tough as nails. The metal hinges keep the screen wobble-free and the bottom of the case feels tougher than most.

Yet despite its rigidity and powerful internal organs, the X220, like the X200 and X201 that came before it, is still incredibly light. The 1.25-inch chassis weighs just 3.6 pounds, and that's including its six-cell battery. Strapping on the slice battery adds an extra 1.16-inches in thickness and an extra 1.4 pounds to the overall package. The upside is that the extra battery fits pretty flush with the system, and thus doesn't block any of the important ports -- things like a trifecta of USB jacks, an Ethernet port, headphone connector, and VGA / DisplayPort sockets. There's also an ExpressCard 54 and four-in-one card slot. We should also note our review unit came with a single USB 3.0 port, but that's only available on certain configure-to-order models.



Keyboard, touchpad, and screen

Lenovo's always made some of the best laptop keyboards out there, and the board sitting within the X220 is no different. The curved keys provide just the right amount of feedback, and the spacing is almost perfect for touch typists like us. Actually, thanks to the slightly expanded 12.5-inch screen, Lenovo was able to work on the spacing quite a bit, and though we didn't have an X201 to compare it to, the deck is far from cramped. On top of that, there's absolutely no flex to the panel, although we did find the Z key on our review model to be a bit loose – we had to snap it correctly back in place, and even then it wouldn't register our keystrokes on occasion. We're hoping this issue isn't widespread and is just a review unit glitch, but it's hard to tell with so few of these out and about. As you can see from the pictures, Lenovo's also shrunken down the function row, though the ESC and Delete keys still remain oversized.

As with most ThinkPad's there's no shortage of navigation options on the X220 -- unsurprisingly, Lenovo's still not giving up on its pointing stick and touchpad combo. The famed red nub resides smack in the middle of the keyboard, but the bigger news is the new ClickPad -- effectively a touchpad with integrated mouse buttons. The pad itself still has those slightly raised braille-like bumps, but because the buttons are integrated, the surface is longer and wider than the previous X200. (Lenovo says it's actually 45 percent larger now.) That said, the 3.0 x 1.95-inch pad still isn't as spacious as we'd prefer, and it makes for a pretty restricted experience. The pointing and clicking functionality isn't half bad, but the multitouch sensitivity was lacking. Even when we updated with new drivers, it wasn't all that responsive to two-finger scrolling or pinch-to-zoom gestures. So, ironically, despite the two modes of navigation, we actually opted to add a third into the mix – our Logitech Anywhere Mouse MX.



It's true, from afar the X220 could be mistaken as a five year old laptop -- one that couldn't last longer than four hours on a charge, and would be considered sluggish by today's standards (most likely because it would have been running Vista!). But in fact, that laptop is now the longest lasting and fastest ultraportable we've ever tested. How's that for unexpected? When you consider that it packs some of the fastest speeds and one of the nicest panels weve ever used

Plain and simple, the four pound system requires no performance, durability, or endurance sacrifices, and that's not something we can say very often when it comes to the many ultraportables out there. Sure, there are flashier looking options out there (Apple's MacBook Air and ASUS' U36J come to mind), but hey, good luck getting those to run for 15 hours on a single charge.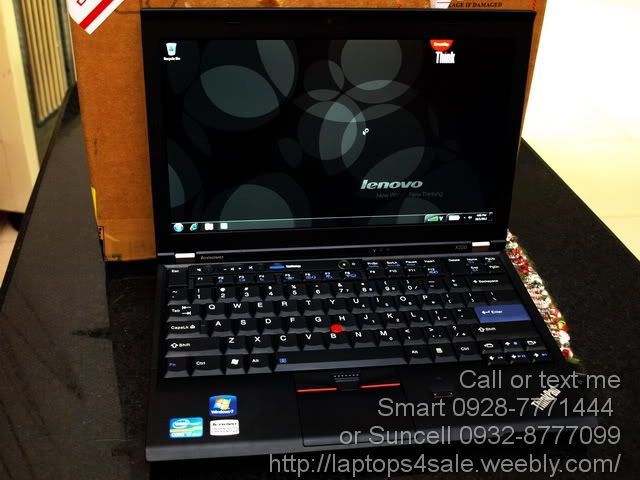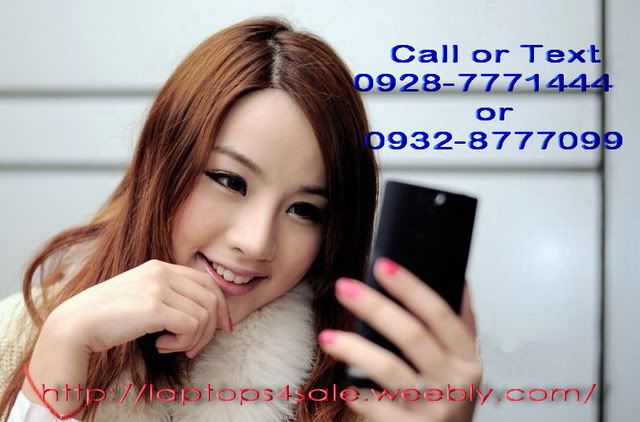 Compared Ad