Acer P5307WB 4000 ANSI Lumens DLP Projector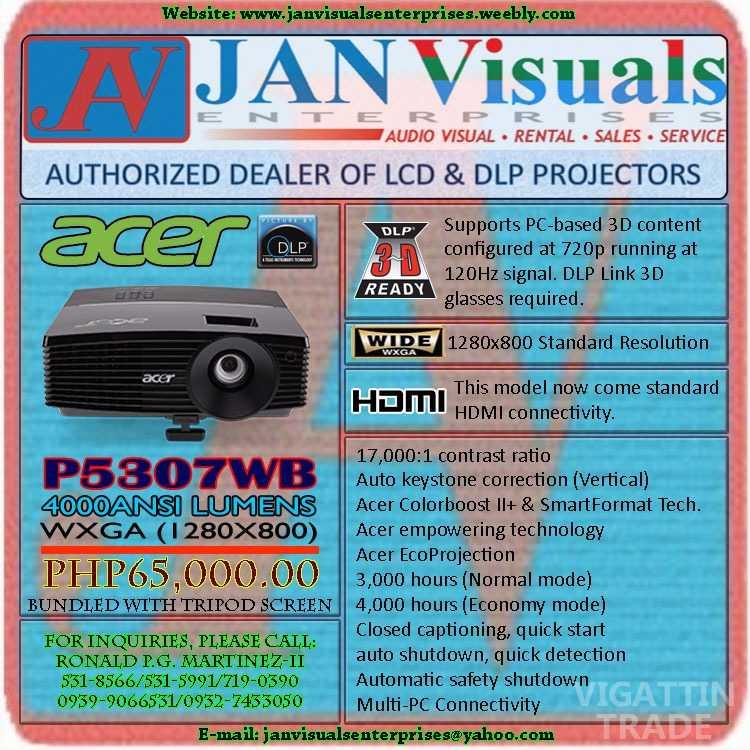 Ad Description
JAN VISUALS ENTERPRISES
2 Aliw Street, Barangay Plainview, Mandaluyong City
Ronald Martinez (Sales)
0939-9066531/0915-5188583/531-8566/531-5991
janvisualsenterprises@yahoo.com
www.janvisualsenterprises.weebly.com
Acer P5307WB DLP Projector
4000ANSI Lumens, WXGA (1280x800), 10,000:1 contrast ratio, HDMI(1.3), 3D ready, auto keystone correction (Vertical), USB Type A [USB Memory (PC-less)/Doc. Camera/Wire-less LAN adaptor], USB Type B: 3-in-1 USB Display both for PC and MAC, Wall-Color compensation, ColorSafe II, 2x digital zoom, manual zoom, manual focus, Acer Colorboost II+ Tech., Acer SmartFormat Tech., 3,000 hrs. (high) to 4,000 hrs. (eco mode) lamp life (estimated), Quick start - no long warm up time, Closed captioning, Acer EcoProjection, Automatic safety shutdown, Approx. 290x254x99 mm(W/D/H), 2 Internal 5w Speakers, Loop Through, Multi-PC Connectivity, SmartDetection, Dual D-Sub Input, 3.3 kilograms (7.3 lbs.), 100~240VAC (Auto Switching), 50/60Hz (universal), Made in China.
Warranty (Brought in Service):
Two (2) years limited warranty on parts and services except bulb & lenses.
One (1) year limited warranty on bulb or 1000 hours. Whichever comes first.
Compared Ad