3D Graphics Expert Intel i3 2ndGen + 2GB Nvidia 540gt|500gb+3GB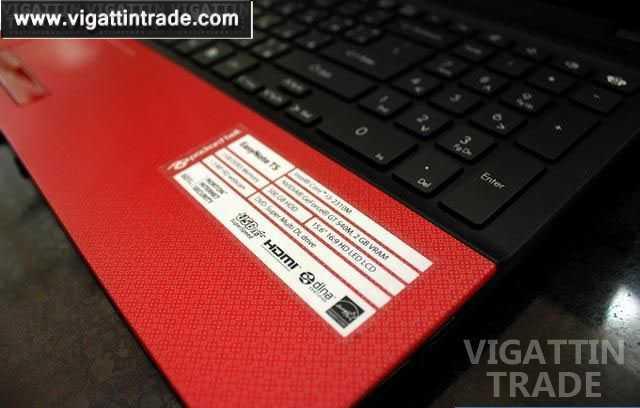 Ad Description
from Abroad. 98% Smooth Unit, unit battery charger laptop sleeves Win7 software installed 09287771444 meet smfairview or LBC nationwide

can lampaso i5 and i7 2ndgen 3rd gen with Intel HD graphics

Packard Bell's EasyNote TS range of 15.6in notebooks have been designed to be both stylish and to make the most of Intel's Sandy Bridge processors. Although the series has only recently been released, Packard Bell has decided it's already time to beef up the specs on the EasyNote TS13HR.
Available in striking shades of Ebony Black, Garnet Red, and Moonstone White, we were lucky enough to lay our hands on the red unit which boasts a subtle but effective daisy-chain patterning on the cover and palm rest. It's a sturdily built machine, too, weighing a firm 2.6kg and measuring 382 x 253 x 32mm so should still fit comfortably inside a rucksack when you're on the go.
Full size keyboard
Connectivity is more than adequate, with Ethernet and 802.11b/g/n Wi-Fi, plus HDMI out, 3 USB 2.0 ports (although one USB 3.0 is also optional), an SD card reader at the front and a DVD drive. The keyboard is a full size isolated affair, complete with number pad. It feels comfortable and responsive to the touch but Packard Bell is still using the template that has the Enter and Left Shift buttons touching their adjacent keys and such a large Right Shift key that the direction keys have to be mightily reduced in size beneath.
The touchpad operates smoothly and efficiently, as does the 'rocker' style all-in-one selector-button bar. The 15.6in display sports an LED backlight and a native resolution of 1,366 x 768, which is bright enough for most tasks such as Web browsing, watching movies, video streaming and the odd bit of image editing.
Social networking hotkey
Performance has been enhanced by upgrading the CPU to an Intel Core i3- 2310M with 3GB of DDR3 memory. The storage capacity has also been expanded to a whopping 500gB, which will allow you plenty of space for a video collection and even some video editing. With an Intel HD Graphics 3000 processor on board you're not going to be playing Skyrim or Battlefield 3, but DVD movies look relatively sharp, albeit with a slightly muted colour palette.
Packard Bell clearly envisages this notebook primarily appealing to the 'chattering' crowd as it comes with its own dedicated keystroke for social networking, which instantly provides you with access to Facebook, Twitter, Flickr and YouTube. Your social pursuits are aided by a 1.3-megapixel HD webcam and around four hours of battery life, yet disappointingly the audio levels throughout are unusually low.
Compared Ad